Introduction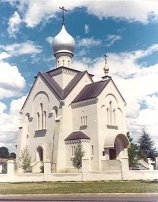 Welcome to the English website of the St. John the Baptist Church, the Canberra parish of the Australian Diocese of the Russian Orthodox Church (Abroad). We hope that your visit will be of benefit.
Russian Bazaar
Saturday, 14 December 2013, from 10am to 2pm at the Church Hall. Read more...
The rector of the parish is Archpriest Alexander Morozow.
For general enquiries please email enquiry@stjohnthebaptist.org.au.
Our parish website also has web pages in Russian with different content.
Recent Updates
6 December 2013

25 November 2013

3 November 2013

11 August 2013
Services
Visitors are always welcome at our services. The All Night Vigil is celebrated beginning at 5 PM on Saturday evenings and the Divine Liturgy at 9 AM on Sunday mornings. Confessions are heard during the Vigil service. The principal language of the services is Church Slavonic. Some English is used in the Divine Liturgies and usually somewhat more during the All Night Vigils. The parish church and school are located at:
1 Matina St
Narrabundah ACT 2604 (map)
Schedule of Upcoming Services
Saturday 9 November
5:00 PM - All Night Vigil
20th Sunday after Pentecost
Sunday 10 November
9:00 AM - Divine Liturgy
Saturday 16 November
5:00 PM - All Night Vigil
21st Sunday after Pentecost
Sunday 17 November
9:00 AM - Divine Liturgy
Saturday 23 November
5:00 PM - All Night Vigil
22nd Sunday after Pentecost
Sunday 24 November
9:00 AM - Divine Liturgy
Saturday 30 November
No service
23rd Sunday after Pentecost
Sunday 1 December
No service
Tuesday 3 December
No service
The Entry of the Most Holy Theotokos into the Temple
Wednesday 4 December
No service
Saturday 7 December
5:00 PM - All Night Vigil
24th Sunday after Pentecost
Sunday 8 December
9:00 AM - Divine Liturgy
For updates to the service schedule and other parish events, follow us (@stjohn_baptist) on Twitter.
Parish Life
Upcoming Events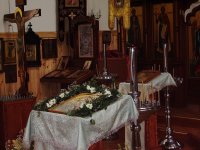 Parish Membership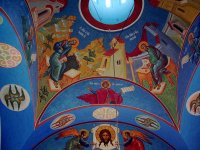 We would encourage those who attend our services and are part of the Orthodox community in Canberra to become parish members. An explanation of the importance of parish membership

is available in Russian and English, as is a parish membership form,

also in Russian and English.