Introduction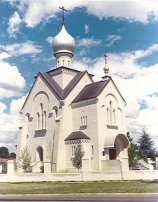 Welcome to the website of the St. John the Baptist Cathedral in Canberra. The cathedral parish is part of the Australian Diocese of the Russian Orthodox Church (Abroad). We hope that your visit will be of benefit.
Reading Group
A reading / discussion group is meeting each Sunday afternoon via Zoom to discuss the writings of the Apostolic Fathers.
The dean of the cathedral is Archpriest Alexander Morozow.
For general enquiries please email enquiry@stjohnthebaptist.org.au. For information and enquiries about hiring the parish hall, please see the contact page.
Our parish website also has web pages in Russian with different content.
Recent Updates
9 September 20201

28 August 2021

1 May 2021

5 January 2021
Updates Related to COVID-19
The announcement on 9 November 2021 that restrictions in the ACT will ease further as of Friday 12 November means that we can now conduct our regular services with a maximum of 50 worshipers in church at any one time. Given this increase in allowed worshipers, starting this week it will no longer be necessary for those wishing to attend church on Sundays to let me know in advance.
Please note however, that in line with the ACT Government's strong recommendation to keep wearing masks in indoor public settings including places of worship, we will continue to observe this practice.
If you have any questions regarding the new arrangements I would ask that you contact me directly on 0411 165 925. Church attendance is conditional on people using the Check In CBR application on arrival at the candle stall each time they come to a service. Please be aware that for those worshipers who cannot sign in electronically themselves, the candle stall duty staff will need to do this on your behalf using their own phones.
Father Alexander
To help us overcome the financial impact that the pandemic has had on our finances, we ask you to consider a regular monthly financial contribution to our parish. Contributions directly into our parish bank account is the easiest way to make your donation. Our bank account details are as follows:
BSB: 032719
Account: 602930
Other updates for the parish community and communications from the parish clergy will be published here. Please check back regularly.
Schedule of Upcoming Services
Saturday, 6 November
5:00 pm
All Night Vigil
20th Sunday after Pentecost
Sunday, 7 November
9:00 am
Divine Liturgy
Saturday, 13 November
5:00 pm
All Night Vigil
21st Sunday after Pentecost
Sunday, 14 November
9:00 am
Divine Liturgy
Saturday, 20 November
5:00 pm

No service

22nd Sunday after Pentecost
Sunday, 21 November
9:00 am
Divine Liturgy
Saturday, 27 November
5:00 pm
All Night Vigil
23rd Sunday after Pentecost
Sunday, 28 November
9:00 am
Divine Liturgy
Friday, 3 December
6:00 pm
All Night Vigil
The Entry of the Most Holy Theotokos into the Temple
Saturday, 4 December
9:00 am
Divine Liturgy
5:00 pm

No service

24th Sunday after Pentecost
Sunday, 5 December
9:00 am
Divine Liturgy
Services
Visitors are always welcome at our services. The All Night Vigil is celebrated beginning at 5 PM on Saturday evenings and the Divine Liturgy at 9 AM on Sunday mornings. Confessions are heard during the Vigil service. The principal language of the services is Church Slavonic. Some English is used in the Divine Liturgies and usually somewhat more during the All Night Vigils. The parish church is located at:
1 Matina St
Narrabundah ACT 2604 (map)
For updates to the service schedule and other parish events, follow us (@stjohn_baptist) on Twitter or on Facebook.
Parish Life
Weekly Reading and Discussion Group
An informal reading group/discussion on the Apostolic Fathers, which is a collection of letters and documents from the second generation of Christians, and provides insights into the structure, worship, and preaching of the church immediately after the ministry of the apostles. There will be a brief introduction to each letter but mostly discussion driven by what the group finds interesting. They are all short pieces and easy to read, not heavy theology. It will provide a core for us to gather in fellowship and learn about the history of the church together, and a chance to stay connected in these difficult times.
For more information, please contact Subdeacon Irenaeus (Ryan) Strickler, email rwstrickler@gmail.com.
Date and time: Each Sunday at 5 pm
Zoom meeting 886 7979 2853, password EySXu0
Readings: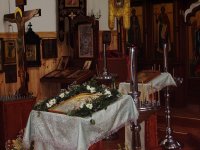 Parish Membership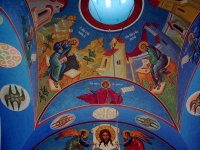 We would encourage those who attend our services and are part of the Orthodox community in Canberra to become parish members. An explanation of the importance of parish membership

is available in Russian and English, as is a parish membership form,

also in Russian and English.
Information is available about how members of our community can help to support our parish financially, when unable to attend weekly services.