Introduction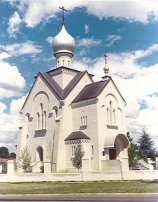 Welcome to the website of the St. John the Baptist Cathedral in Canberra. The cathedral parish is part of the Australian Diocese of the Russian Orthodox Church (Abroad). We hope that your visit will be of benefit.
The dean of the cathedral is Archpriest Alexander Morozow.
For general enquiries please email enquiry@stjohnthebaptist.org.au. For information and enquiries about hiring the parish hall, please see the contact page.
Our parish website also has web pages in Russian with different content.
Recent Updates
18 May 2022

6 May 2022

4 January 2022

9 September 20201

28 August 2021

1 May 2021
Repose of His Eminence Metropolitan Hilarion
Early on the morning of 17 May we received the sad news that after a long illness our beloved Hierarch Metropolitan Hilarion reposed in the Lord at 2.00 pm New York time on 16 May. Upon receipt of this news I served a Panihida immediately and now wish to advise our faithful that on Sunday 22 May we will serve another Panihida at the end of the liturgy. The ROCOR Synodal website will post more details as they become available. In the meantime please include Metropolitan Hilarion in your private prayers. May the Lord God grant him blessed repose!
Father Alexander
Updates Related to COVID-19 - 26 February
The rapid spread of the Omicron variant of COVID-19 underlines the great importance of our continuing need to take all the necessary safeguards to minimise the risk of infection amongst those attending our church. While no longer mandatory, we ask that masks continue to be worn when in church given the number of our worshipers who have a higher Covid risk because of their age or because of underlying health issues. We also need to ensure that worshipers spread out in church as much as is practical. Those wishing to venerate icons should use the alcohol wipes available at the candle stall before and after such veneration.
For the time being there is no requirement to advise me in advance of your attendance in church as we should be able to accommodate the expected number of worshipers on Sundays and other feast days, including Christmas. However, if it does look like we might reach our allowable limit during any service, please be understanding if you are asked to wait outside the church until someone leaves.
If you have any questions regarding the above arrangements I would ask that you contact me directly on 0411 165 925.
Father Alexander
To help us overcome the financial impact that the pandemic has had on our finances, we ask you to consider a regular monthly financial contribution to our parish. Contributions directly into our parish bank account is the easiest way to make your donation. Our bank account details are as follows:
BSB: 032719
Account: 602930
Other updates for the parish community and communications from the parish clergy will be published here. Please check back regularly.
Schedule of Upcoming Services
Saturday, 7 May
5:00 pm
All Night Vigil
Third Sunday of Pascha


The Myrrh-bearing Women

Sunday, 8 May
9:00 am
Divine Liturgy
Saturday, 14 May
5:00 pm
All Night Vigil
Fourth Sunday of Pascha


The Paralytic

Sunday, 15 May
9:00 am
Divine Liturgy
Saturday, 21 May
5:00 pm
All Night Vigil
Fifth Sunday of Pascha


The Samaritan Woman

Sunday, 22 May
9:00 am
Divine Liturgy
Saturday, 28 May
5:00 pm

No service

Sixth Sunday of Pascha


The Blind Man

Sunday, 29 May
9:00 am

No service

Wednesday, 1 June
6:00 pm

No service

The Ascension of our Lord
Thursday, 2 June
9:00 am

No service

Saturday, 4 June
5:00 pm
All Night Vigil
Seventh Sunday of Pascha


The Fathers of the First Ecumenical Council

Sunday, 5 June
9:00 am
Divine Liturgy
Saturday, 11 June
5:00 pm
All Night Vigil
Pentecost


Trinity Sunday

Sunday, 12 June
9:00 am
Divine Liturgy
Services
Visitors are always welcome at our services. The All Night Vigil is celebrated beginning at 5 PM on Saturday evenings and the Divine Liturgy at 9 AM on Sunday mornings. Confessions are heard during the Vigil service. The principal language of the services is Church Slavonic. Some English is used in the Divine Liturgies and usually somewhat more during the All Night Vigils. The parish church is located at:
1 Matina St
Narrabundah ACT 2604 (map)
For updates to the service schedule and other parish events, follow us (@stjohn_baptist) on Twitter or on Facebook.
Parish Life
Upcoming Events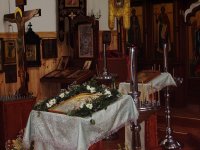 Parish Membership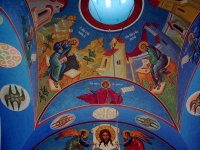 We would encourage those who attend our services and are part of the Orthodox community in Canberra to become parish members. An explanation of the importance of parish membership

is available in Russian and English, as is a parish membership form,

also in Russian and English.
Information is available about how members of our community can help to support our parish financially, when unable to attend weekly services.